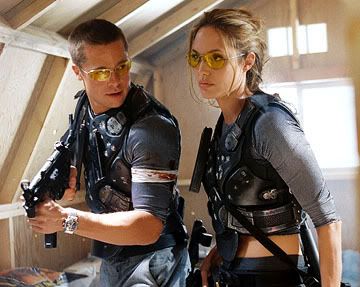 While Miss Moneypenny's been recovering from her surgery we've been watching a lot of DVDs. Okay, I've been watching and she's been sleeping on the couch. I thought that since I've got a couple of hours to kill I'd give a rundown on what I've seen :

Crash: Brutal but good. I'm not usually one for multiple storylines but I think Paul Haggis pulled it all off. It's sad to think that such a large portion of our society has some kind of racism in them. I didn't even recognize Marina Sirtis. Does this mean I have to hand in my Star Trek Geek card?

Ice Age: An okay movie. Not as funny as I expected it to be. For some strange reason this movie came with rating of PG. I don't think younger kids would be at all interested. I think the themes were a bit mature if not dark for kids.

Law & Order: Criminal Intent (the first season): I'll say straight out that I'm in love with Det. Robert Goren. I think he's fascinating. I had no idea the show's producers wanted Goren to be like Shirlock Holmes but I can see it. I started watching the show during the third season so it's really nice to see how these characters began. There's one scene where Eames says something like, "promise me you'll buy me a margarita" to Bobby and he looks up from the papers he's reading and smiles shyly. A smile like that can melt my cold, cold heart. ::sigh::

Mr. & Mrs. Smith: For what it was it wasn't bad. Brad Pitt has never done it for me. Not even when he was hunk of the week in Thelma & Louise. Good thing Angelina does do it for me. :-P There were a couple of points where I laughed out loud. Though it could be argued that those scenes weren't meant to be funny. The last shoot out scene is pure ballet, very nicely shot.

One Hour Photo: In a word: smarmy. I had avoided seeing this movie for a long time because I didn't think I was ready to see Robin Williams in a really creepy role. I just wanted to take a bath after this one was over. The movie isn't scary it just has a very high "ick" factor. The extras are very informative.

Robots: A sweet little movie that the critics hated. I thought the movie was fun. The crosstown express is the coolest thing ever. Ewan McGregor was earnest, Robin Williams was wacky. What else could a cartoon need?

The Ladykillers: A heist movie with a difference. Tom Hanks is wonderful as an eccentric thief who puts together and elite team of crooks for a casino job all under the roof of a little old lady. It was a bit weird and a bit slow but still kinda cool.

The Ruttles 2: Can't Buy Me Lunch: I never saw the first movie but since I've read that this one is just a rehash I guess I didn't miss anything. Watch the bloopers. David Bowie laughing is so cute. Tom Hanks cracking up after pretending to cry is hilarious.

We Know Where You Live: I was totally disappointed in this. Even Eddie Izzard and U2 couldn't make me feel better. I don't know but I really didn't think a lot of the stuff was very funny. Phil Jupitus' impression of Eddie was bang on though.

On deck for this weekend are Pillow Talk, March of the Penguins and Monster House.
Reposts are posts written for previous journals or other places online that no longer exist.