Nickel and I just got back from the 3rd World Urban Forum I'm not really sure what's been going on. It seems like a lot of people gathering around to say, "Yes, we like cities. We must, we've got a bunch of them!" I've just been getting the updates for the other days activities and that's about as much as I can figure out.

It was my job to sit at the Amnesty International table and get people to sign petitions. All the delegates from countries that have horrendous human rights records gave us a very wide berth. I was pretty bored. In fact getting in was the most fun. There was some security there alright. Photo id cards mandatory.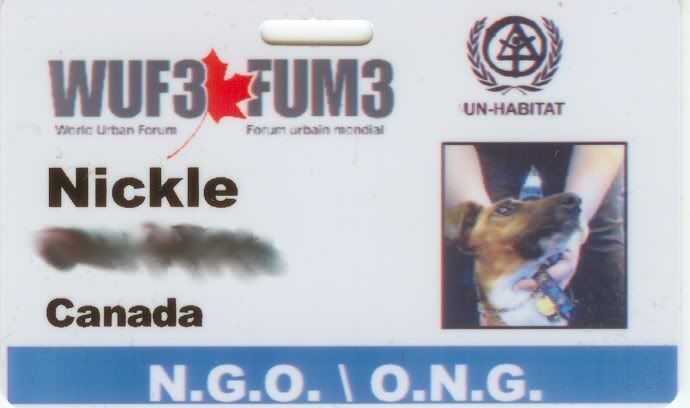 I'm not showing you mine. There seems to be some kind of rule that id card photos must be the worst photos possible. Notice they spelled Nickel's name wrong. They spelled my last name wrong on mine. So much for security.

Nickel thought the metal detector was fun. We had to go through the kind that you have at the airport and that beeped. After that one took a wand and started waving it around. Nickel decided that it was a toy and I had to stop her from grabbing it and making for the hills. That would have been fun.

It was interesting seeing all those "secret service" types do a double take when they spotted the dog. That was immediately followed by them talking into their cufflinks. Two security guards actually asked to see Nickel's id.

Oh well. I've got a cool souvenir. Yes my dog does have id. I feel like Sue Thomas.
Reposts are posts written for previous journals or other places online that no longer exist.